TrapezePro...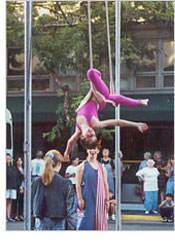 Check out our
Newsletter
for more updates.

Trapeze & Circus Arts Instruction for All Ages
The creativity, athleticism, discipline and glamour of Circus Arts has come to the forefront of society today. The theatrics of Cirque du Soleil and Cirque Éloize have complimented the traditional aspects of travelling American Circuses, while astounding physical feats shown through foreign Circuses like the Peking Acrobats and the Moscow Circus remind us of our incredible potential.
TrapezePro... understands that there is a creative, glamourous superhuman athlete in all of us, if even on a small scale. TrapezePro... offers everyone the opportunity to go behind the stage curtain and experience the myth and mystique of the Circus, regardless of age or perceived ability.
"The teachers were incredible. I couldn't believe what I was able to do after just one session! "
You can swing with the greatest of ease on the Flying Trapeze, demonstrate grace and power in Aerial Arts, bounce back on the Trampoline, astound and amaze with Circus Skills like juggling, unicycling or acrobatics. We can help you, your group or your corporation create your very own centre ring.
So step right up, and join the fun-filled frolics of the most enabling, exhilarating experience that everyone can enjoy! Contact us for more information.